Background
A revolutionary new online tool that monitors children's growth in early literacy skills has been developed through a collaboration between the University of Canterbury Child Well-being Research Institute (CWRI) and Global Office.
With trials underway to roll-out the technology across the country, the development team are hoping it may one day be used worldwide.
The challenge
The Institute's Research Project Manager Dr Amy Scott first approached Global Office with the concept two years ago and has been supported through each stage of its development to its trial roll-out in 2020. So far more than 2000 children have used the app, through one pilot in 14 schools and another in 27 kindergartens.
Presented as an easy-to-navigate assessment website, the app uses engaging online games to test phonological awareness, letter-sound knowledge, storytelling and word reading skills. Results from the assessments are analysed and sent back to schools to inform their literacy teaching practice. The assessment tools align with the Better Start Literacy Approach - a classroom-based intervention to support tamariki in their first year of school to experience reading success.
Dr Scott worked with Global Office's Alex Kopach on the project and is thrilled with the result. "We wanted it to be easy for children to use and simple to update, so that we could add more phases to it in the future," she says. "We are in the process of developing and piloting te reo Māori and Samoan language versions of the tasks, which will further extend the usefulness of the tool in Aotearoa New Zealand".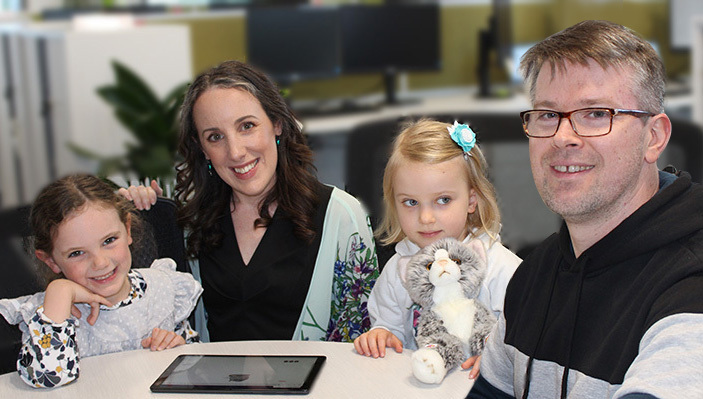 "Global Office took a real interest in how it would look and what we needed it to do. They were really patient and professional and have gone out of their way to understand our needs, rather than just focusing on the
technical side of things."
The app will help provide vital information during a child's important first year of school. Using real-time data, it is able to generate reports for parents, spreadsheets for teachers, and, in conjunction with quality classroom literacy teaching, even indicate a child's risk of dyslexia.
"It's a great tool to help pick up learning difficulties and make sure children are then supported early with whatever they need."
Global Office CEO Nick Witteman describes the technology as cutting-edge. "We've developed it so that the tests can be taken on a touch screen iPad or tablet and more than one child can do them at a time. It removes some of the burden from testers because it's really intuitive for even really young kids."
Developer Alex Kopach says, "Through their own device, teachers are able to control each child's assessment, selecting different tests for them and moving them on to a new one when their time is up." Protecting the test results, when wifi connectivity is weak or unstable, has been one of the biggest challenges.
Throughout the development process, Amy Scott's five year old daughter Ivy and Alex's three year old daughter Alisa have been on hand for some gentle consumer testing. "They've enjoyed playing the games and it's been great having their feedback and seeing what is resonating well with children," Amy says.
To read more about the work being done by the University of Canterbury Child Well-being Research Institute (CWRI) visit:
https://www.canterbury.ac.nz/childwellbeing/
https://www.betterstartapproach.com/
"Global Office took a real interest in how it would look and what we needed it to do. They were really patient and professional and have gone out of their way to understand our needs, rather than just focusing on the technical side of things."